THE PERFECT PODCAST CHALLENGE
JULY 6TH-10TH
WANT TO RUN A SUCCESSFUL, PROFITABLE PODCAST?
You're invited to take part in the FREE 5 day Perfect Podcast Challenge, presented by John Bunn & Nick Miller, Podcast hosts of How To Film Weddings & How To Make A Podcast.
For 5 days, we're going to be going live in an exclusive Facebook group to teach our proprietary Podcast Blueprint system that has helped us make over $250,000 in just 18 months.
Each day, we'll teach you new strategies and mindsets that will help you run a podcast that connects with people, inspires them, and generates income!
Our mission is to give you the confidence to overcome your fears and TAKE ACTION to build your perfect podcast!
WANT TO KNOW THE BEST PART?
You DON'T need expensive gear and tech.
You DON'T need to have a bunch of connections in your industry or a huge following.
You DON'T need to have loads of cash.
DURING THIS FREE CHALLENGE YOU'LL LEARN:
How to pick the right niche for your podcast (even if you have no idea what your show will be about)

​How to structure a podcast episode the right way, so you keep people listening, and coming back for more

​What tech and gear you actually need to have a professional sounding podcast

​How to easily find ideas for podcast topics so you never run out of content

​How to PUNCH FEAR IN THE FACE and finally take action on your dreams of running a successful podcast!

THE DETAILS:
5 Days Of Actionable High-Value Training
Each day we'll walk you through the secrets of our signature Podcast Blueprint System and challenge you to take action on building your Podcast. You'll get clarity on how to manage and grow your podcast, all while gaining confidence and learning new skills.
PRIVATE FACEBOOK GROUP
We'll be going LIVE every day and chatting with you in our private challenge Facebook group!
This group is there for you to not only engage with us and learn new valuable content each day, but for you to post your progress and ask your questions! There's nothing as valuable as an encouraging community and accountability to get you going!
JULY 6TH-10TH
We know how hard it can be to get out of your own head, stop trying to make everything perfect, and actually get your new business started.
So we've put together a five day program designed to teach, encourage, and support you on your journey!
This training is only taught in our high ticket Podcast Blueprint Program, but you get access to it for FREE for a limited time during this Perfect Podcast challenge.
You'll get 5 days of ACTIONABLE, HIGH-VALUE CONTENT, the ability to CONNECT with podcasting experts, and other people on the same journey, facing the same obstacles.
Discover the secrets to running a profitable, sustainable podcast, even during times of fear and uncertainty.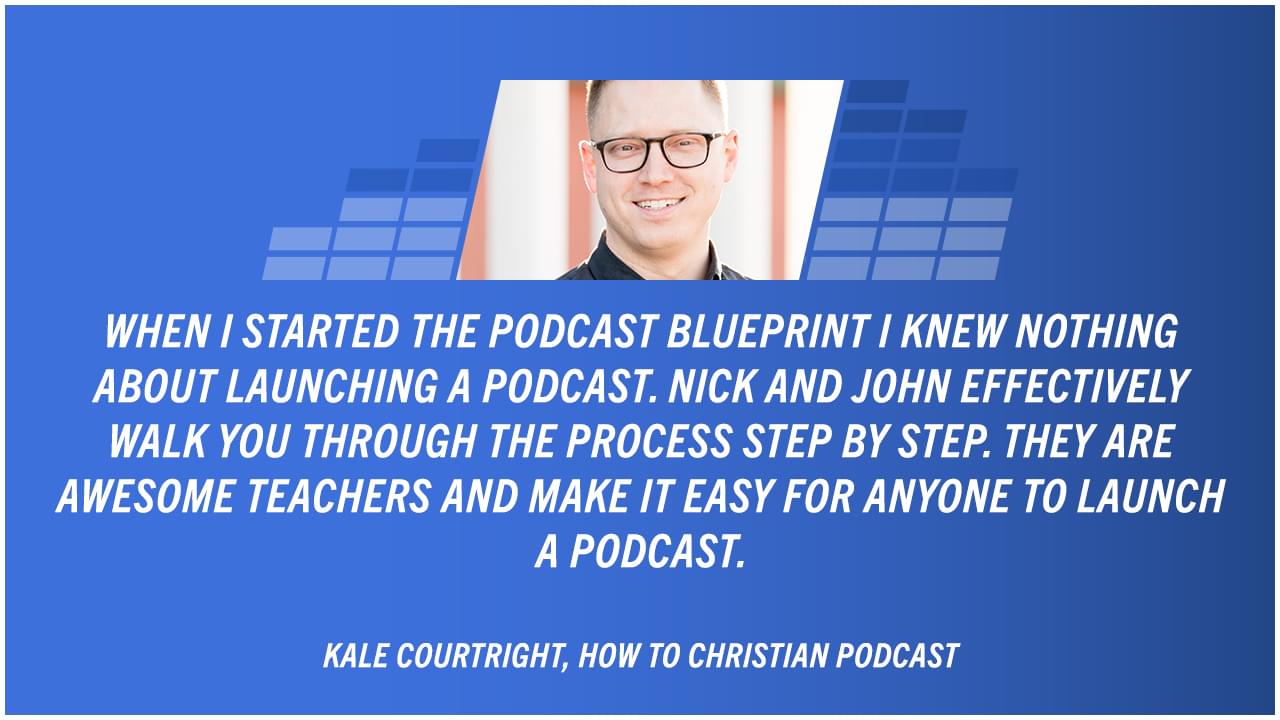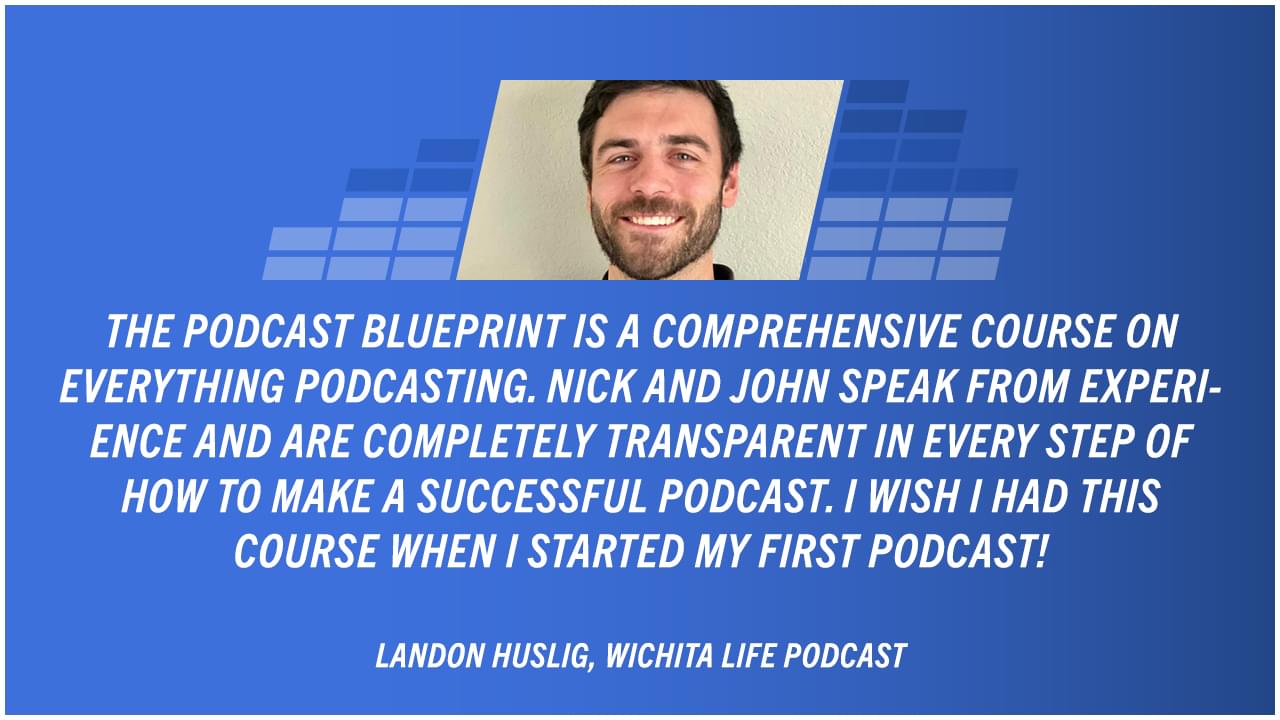 DID WE MENTION THE DAILY GIVEAWAYS?
We're doing this 5 day challenge for free because we are committed to helping as many people as we can succeed with their own podcast. To make it even better, we'll be giving away THREE LIFETIME MEMBERSHIPS TO OUR BRAND NEW PODCAST BLUEPRINT COURSE, but that's not it!
YOU'LL ALSO HAVE THE CHANCE TO WIN A RODE PODCASTER STUDIO KIT, RODE PODMIC, SKULLCANDY HEADPHONES, AN AMAZON GIFT CARD, A YEAR MEMBERSHIP TO ADOBE AUDITION CC, AND MORE!
Let's face it, the world has been rocked this year... but YOU don't have to be. Podcasts have been skyrocketing this year, despite the challenges. There has never been a better time to build your audience with a podcast than RIGHT NOW. It's up to you go all in, make the commitment, and join this challenge!
Hey there, I am JOHN BUNN, co-host of How To Make A Podcast. I honestly can't believe this is the life I get to live. I get to live the life I choose, and do it on my terms. How did I do this? Through building a super successful podcast called How To Film Weddings with my co-host, Nick.
In 2018, after shooting wedding videos for 14 years, we jumped in head first to podcasting. Within 18 months, we had generated over a quarter million dollars in revenue with our podcast. That isn't a typo. It is currently paying us nearly $20,000/month just to do the one thing we love, podcasting!
It wasn't easy, and that is why we are here. To show you how we did it, and guide you as you embark on your podcasting journey. Learn from our mistakes, and take your podcast to the next level, so you can live the life you choose! We are so excited about this platform, and promise to always be fully transparent, and show you everything we learn as we build our podcasting empire!
Hey, I am NICK MILLER, the better looking half of How To Make A Podcast. If you would have asked me 18 months ago what I would be doing with my life, I couldn't have possibly imagined that podcasting full-time would be my answer. What was only just a dream has officially become a reality. I make more money than I ever have before, but more importantly, I am free to spend more time doing the things I love.
Podcasting has changed every bit of my life, and I want to be there to show you exactly how we did it. While John kills it at the business side of things, I am your guy for showing you everything you need to know regarding production, recording, and how to stand out from the crowd.
I am so excited to help you along on your journey, and cannot wait to show you exactly how we did it.
FREQUENTLY ASKED QUESTIONS
WHO IS THIS FOR?
This is for anyone who either has always wanted to start a podcast, or already has a podcast and wants to grow it. We want to help as many people as possible succeed.
WHO IS THIS NOT FOR?
This is NOT a get-rich-quick scheme or a magic wand that will allow you to make a ton of money without doing any work. If your goal is join the challenge, not do the daily work, and not attend the sessions, this might not be for you...
HOW DO I JOIN THE CHALLENGE?
Just click any of the red buttons on this page and you'll be taken to a sign up form. Once you enter your name and best email, you'll be entered into the challenge! You'll get an email with a link to the Facebook group along with further instructions.
HOW DO I ENTER THE GIVEAWAYS?
Once you're signed up for the challenge, you're entered! We will be doing daily giveaways, and you must be present on the live sessions to win!
WHAT IF I CAN'T ATTEND EVERY DAY?
That's okay! Just come for as much of the challenge content as you're able. If you'd like to have the option to go back and watch all the content from the challenge, you can purchase a VIP spot for the challenge. This will give you access to all the recordings along with some other special bonuses!
WHY DO YOU NEED MY EMAIL?
There will be A LOT going on for this challenge (FB group, daily training, giveaways, etc), we need a way to get you all the information you may need.
WILL I BE ABLE TO REWATCH THE CHALLENGE VIDEOS?
You will be able to rewatch the challenge videos in the Facebook Group as many times as you want until 11:59PM CST on July 10th. At that time they will be taken down forever.
Just Enter Your Name And BEST Email Here.